In this blog posting, which consists of three parts, I share some reflections on how my involvement in Our Mythical Childhood (OMC) has made me think in new ways about the art-historical approaches to the study of ancient material culture. 
---
Part 1: Framing Classical Art and Myth 
In the first part, I discuss the possibility of blending style with culture, and how this approach can lead to new ways of understanding artistic forms through combining ideas from the past and the present, the real and the imaginary.
My area of expertise is Classical art – that is, Greek and Roman architecture, sculpture, and painting. The style of Classical buildings, statues, ceramics, mosaics, frescoes, and other artefacts is of paramount importance in my research and teaching. An understanding of style allows me to date and contextualise ancient specimens, usually with reference to similar-looking works of art. For Athenian figured pottery, for example, the stylistic parallels of a vase painting help me to identify the painter, to evaluate the quality of draughtsmanship, and to assess how innovative or imitative a painting is. (For my latest work on Athenian pottery see – link.)
But what does style really explain? In this blog, I suggest that the term 'style' could be combined with 'culture', as part of a conscious effort to blur the boundaries between ancient and modern artistic traditions. The OMC project offers an excellent opportunity to explore this possibility, since it examines the mirror of the Classical heritage in contemporary media for children and young adults, such as books, films, and video games.
Appropriately, the title of this year's OMC workshops in Warsaw (May 14-20, 2018) was The Present Meets the Past. My blog posting is prompted by my participation in these workshops. I had a fantastic time liaising with international colleagues and students, and I was especially inspired by the Cameroonian delegates' presentations. The paper I gave in Warsaw was about the materiality and immateriality of Classical myth in Greek museum guides. After the workshops I started thinking about places outside the western world and how my study of Greek children's books could be enriched.
One output of the OMC project is the creation of an open-access database with summaries and analyses of children's books that (re)present the Classical past. As a contributor to this database, I examine the text and image of illustrated educational books for young children in Greece, aged 4+. I have written twenty entries for two groups of books: 1) introductions to mythology and history; and 2) museum and city guides. My entries include: Aphrodite, Goddess of Beauty (my translation) by Filippos Mandilaras (author) and Natalia Kapatsoulia (illustrator) from 2017; Glafki at the Athenian Agora by Evi Pini and Popi Kirdi (authors) and Stamatis Bonatsos, G. Ntelagiorgou and Giannis Sarsakis (illustrators) from 2010;and Shall We Go to Delphi? (my translation) by Marisa De Castro (author) and Mark Weinstein (illustrator) from 2009:
All books in my database entries are by Papadopoulos Publishing, a family business in Athens that employs thirty people and targets mostly a Greek-speaking customer base. Although the scale of operations is small, some books have the potential to reach out to an international audience.
Cyclades. Jewels of the Aegean (2017) by Filippos Mandilaras (author) and Natalia Kapatsoulia (illustrator) is one book that stands out in particular. It concerns the peoples and cultures of the Cycladic islands, from prehistoric to modern times. I made extensive reference to this book in my talk at the Early Childhood Research Centre at Roehampton in June 2018. The cover illustration is of children playing with a kitten and with Cycladic figurines, all set in a sun-drenched scenery consisting of white-washed houses and marble Classical ruins.
Here and throughout the book the present meets the past, as timeframes and material cultures mismatch. The figurines date from the fourth and third millennia BCE and are today highly-esteemed objets d'art.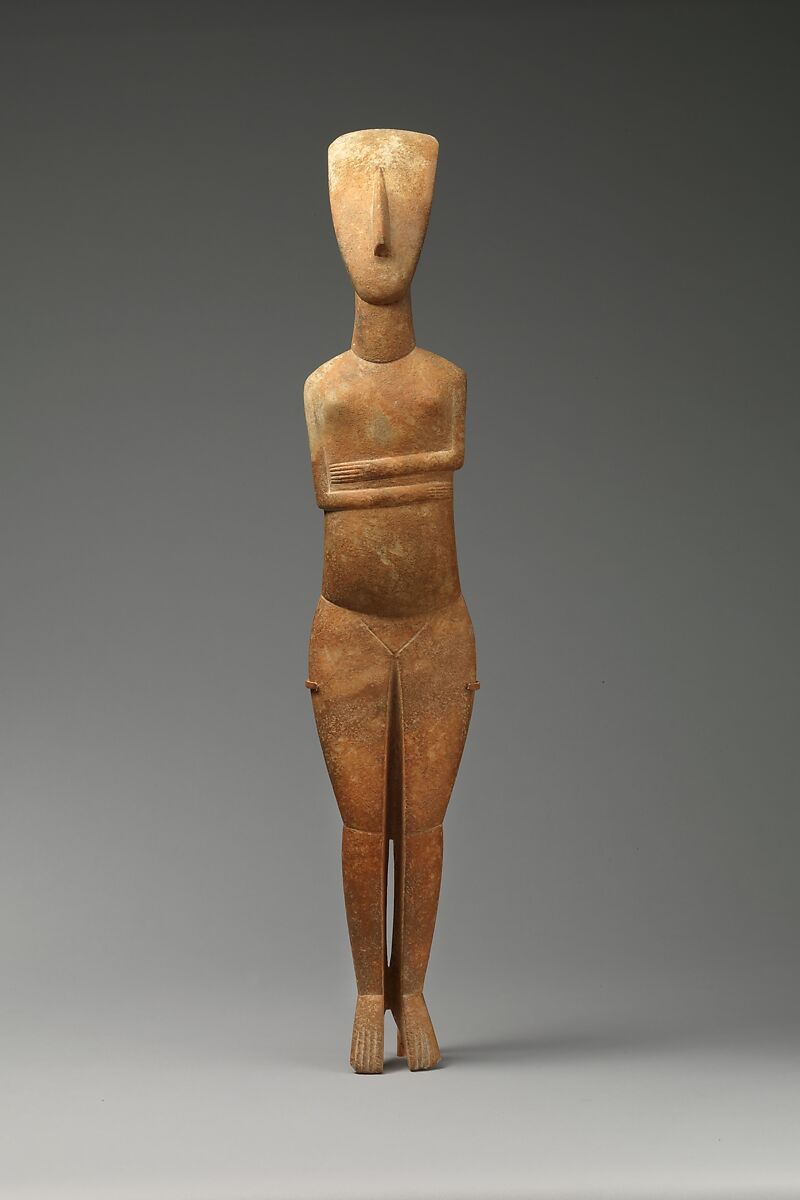 Their simplistic design, which recalls abstract modern art, is important in art historians' evolutionary accounts about representations of the human form over the ages. Yet children do not just marvel at the artistry of the design; the figurines are there for them to play with.
Such books are of interest to me as they evoke my dream of a utopia made up of an interconnected world where cultures unite rather than divide people. As I see it, Classical myth with its worldwide reception has tremendous potential to inspire diverse groups of people to live together, and not just side-by-side. On the one hand, mythology stands for a substantial body of knowledge. Mythology offers a series of complex stories and a long list of actors – gods, demigods, monsters, heroes, and mortals – who lived their extraordinary lives in multiple places, not least because they were almost always on the move. Learning the stories and their characters is challenging for both adults and children, but engaging. On the other hand, knowledge of Greek myths is open source, accessible to all [of relevance here might be Edith Hall's agenda for Advocating Classics Education (ACE)]
Mythology might become increasingly fascinating in today's multicultural and highly mobile world. Given its pervasiveness in western literature and popular culture, mythology is inextricably linked with recreating a refracted and fragmentary version of the ancient Classical style. Learning (about) the Classical myths, nonetheless, can result in a shared global culture that blends together incongruent elements from the present and the past, from the real and the imaginary, as well as from different geographical locations. Classical Antiquity might then re-emerge as a deliberately ambiguous source of inspiration (and innovation), potentially affecting the design of new (artistic) products.
I shall elaborate further on some of the putative gains of blending perceptions of style in Part 3 of this blog, but before doing so I shall discuss (in Part 2) aspects of the unity of style evident in Classical art and in children's books. 
Elaborated by Dorota Bazylczyk
---
Katerina is currently teaching modules on Classical art and archaeology at the University of Roehampton. You can read her previous post on Hesiod here.