"Ready Player One" is a new movie directed by Steven Spielberg (worldwide premiere: March 2018), based on the science-fiction novel by Ernest Cline (2011):
The movie talks about the vision of the world in the future, in 2045, where people use a massive virtual reality called "OASIS" to escape from the real life. The author of the "OASIS" – James Halliday, before his death decides to announce a contest for the players and give his entire property to the first person who will find the "Easter Egg" hidden in virtual reality.  Then the whole world throws itself into the challenge:
The creators of the film decided to put into it many references to well-known pop-culture works, such as (inter alia) "Back to the Future", "Batman", or "Robocop", but they also took some inspirations from the Greek mythology. One of the movie characters was named after the Greek Goddess of the hunt – Artemis. It is Samantha Evelyn Cook, a 19-year-old girl,  who as a player of "OASIS" is called Art3mis. As we can already guess, the girl is hunting for the "Easter Egg" – she is also very brave, independent, and intelligent character.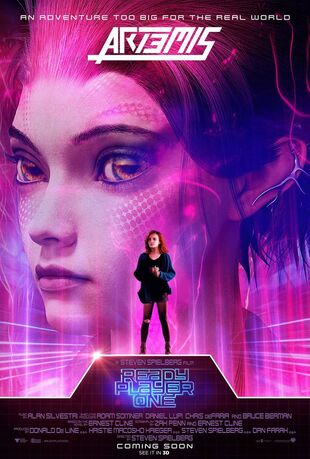 The Funko company – creators of licensed vinyl pop-figures, produced a doll inspired by the Art3mis character (see below):
Found by Dorota Bazylczyk
Elaborated by Dorota Bazylczyk
See more:
The Official Movie Site – link
"Ready Player One" in IMDb – link
"Ready Player One" on Twitter – @readyplayerone, link
The Official Website of Fanko – link
"Ready Player One: 138 Easter Eggs and References in the Movie":